The Borough of Wilkinsburg has been a dry community since 1870, but the Wilkinsburg Community Development Corporation (WCDC) aims to change that this spring.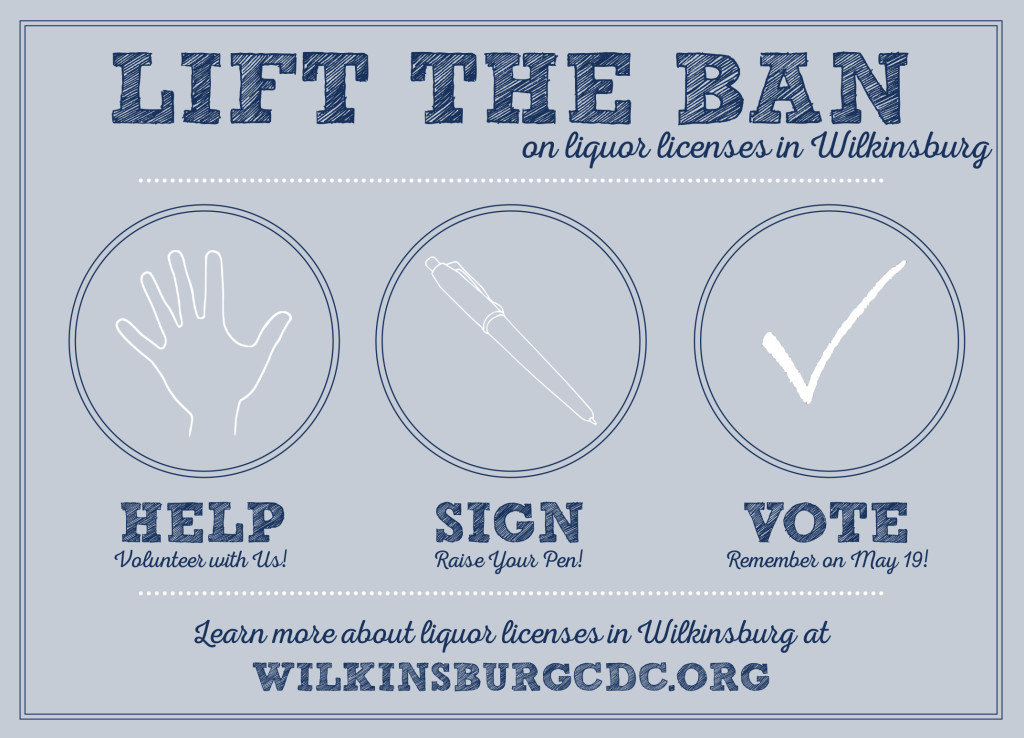 The WCDC Board of Directors voted to pursue a liquor license referendum to legalize the sale of liquor licenses to restaurants in the Borough of Wilkinsburg. The WCDC believes restaurant liquor licenses will attract new businesses to Wilkinsburg and increase investment in the area. This effort is supported by the WCDC Five-Year Strategic Plan and the Wilkinsburg Business District Revitalization Plan, which was approved by Wilkinsburg Borough Council in 2010.
To lead a successful campaign, the WCDC and volunteers must circulate petitions between February 17, 2015 and March 10, 2015 and collect 1,059 signatures from registered Wilkinsburg voters. If that goal is met, the liquor license referendum question, Do you favor the granting of liquor licenses for the sale of liquor in the Borough of Wilkinsburg?, will be placed on the May 19, 2015 primary election ballot in Wilkinsburg.
"With so many nice restaurants right on our border, why not encourage the same in Wilkinsburg and keep dining dollars in our community? Today, if you live in Wilkinsburg and want to meet friends for dinner and a cocktail you have to go to Regent Square, Point Breeze, or East Liberty," WCDC Executive Director, Tracey Evans, said.
"Wilkinsburg is attracting new businesses, our commercial buildings are being acquired and renovated, and the WCDC is working to bring more people to shop, visit, and dine in Wilkinsburg. A vibrant business district needs a mix of daytime and evening activities such as galleries, small performance venues, and unique eateries."
To further support the pursuit of a liquor license referendum, the Urban Partners Market Study of Wilkinsburg found that the borough's liquor license ban is discouraging potential restaurateurs from opening establishments in Wilkinsburg. From the study, "Full-service sit-down restaurants are also in short supply in the Wilkinsburg business district. A major contributing factor is the prohibition of alcohol in restaurants in the Borough, which is typically a significant revenue generator for restaurants. As a result, prospective restaurateurs interested in opening new venues are avoiding Wilkinsburg, which is keeping the demand for finer dining high and the supply relatively low."
In addition to attracting new businesses to Wilkinsburg, existing Wilkinsburg establishments, including Salvatore's Pizza House and Biddle's Escape, have expressed interest in acquiring liquor licenses once they are legally able to do so.
"Prohibiting liquor licenses hurts Wilkinsburg," Biddle's Escape owner and Wilkinsburg resident, Joe Davis, said. "Residents can easily go a few blocks away to a neighboring community, like Swissvale, Braddock, or the city, to enjoy a beer or glass of wine. We need to make this an option in Wilkinsburg, too."
In neighboring communities, such as East Liberty and Braddock, large-scale development projects have taken place just in the past couple years. Much of this development relates to planned and newly established restaurants, hotels, and venues that sell liquor and draw more customers. The WCDC and many supportive Wilkinsburg residents feel that their community is ready for development that will further spur the borough's economic recovery.
Additional information about the WCDC's liquor license campaign is available at www.wilkinsburgcdc.org/liquor-license. For a list of Frequently Asked Questions, visit www.wilkinsburgcdc.org/liquor-license-faq. To volunteer during the campaign, call (412) 727-7855 or email marlee@wilkinsburgcdc.org.
http://www.wilkinsburgcdc.org/programs-and-projects/business-district-revitalization/liquor-license
About the WCDC
The WCDC was formed in June 2008 with a mission to revitalize Wilkinsburg and surrounding areas through business and residential development, organizational and individual civic leadership, and cultural enrichment. The WCDC's main program areas include Business District Revitalization & Safety; Image & Identity; Clean, Green & Safe; and Education & Youth. More information is available at wilkinsburgcdc.org.