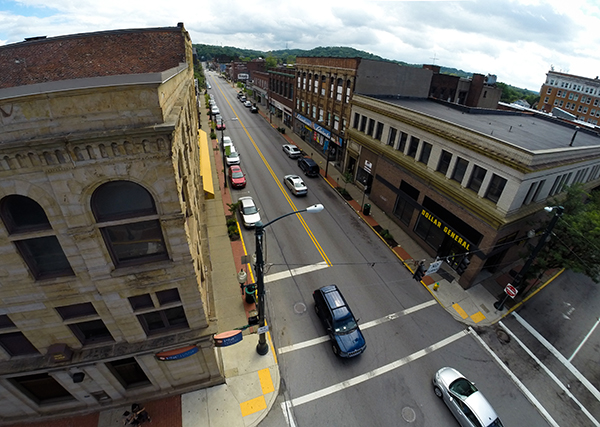 Last summer, the Wilkinsburg Community Development Corporation (WCDC) applied for Main Street designation through the Pennsylvania Department of Economic and Community Development and Pennsylvania Downtown Center's Main Street Program. Earlier this week, Wilkinsburg was accepted into the prestigious program.
"We are thrilled to have been selected for Main Street designation by the PA Department of Community and Economic Development and the PA Downtown Center. The WCDC was formed in 2008 to revitalize our business district and we have been following the Main Street Approach from the beginning. Thanks to the dedication and commitment of our residents, business owners, community stakeholders, and government officials, the Wilkinsburg Business District has made tremendous progress," WCDC Executive Director, Tracey Evans, said.
Acceptance into the Main Street Program will provide Wilkinsburg with more financial and technical resources. Wilkinsburg businesses located within the designated downtown area will be eligible to apply for Enterprise Zone Tax Credits through the Neighborhood Assistance Program (NAP); Wilkinsburg will be eligible to apply for and receive façade grants and other funding; and Wilkinsburg stakeholders will be able to network and collaborate with other Pennsylvania Regional Main Street grantees, among other benefits. To learn more about these resources and benefits, please contact the WCDC at (412) 727-7855.

"This award is an excellent beginning to 2015; we have a number of exciting projects including restoration of the Wilkinsburg Train Station, plans for the former Penn-Lincoln Hotel site, and campaigns to promote and support our businesses. We are grateful for the opportunities and resources that this designation brings to our community, which will improve the quality of life for those who live and work in Wilkinsburg," Ms. Evans continued.
The WCDC was originally formed in 2008 to apply for Main Street designation in 2009, but no awards were made that year. Since the WCDC's office officially opened in 2010, 25 business district properties have sold, 10 vacant storefronts have been filled, and 22 vacant properties have become viable homes or commercial properties through the Vacant Property Recovery Program (VPRP). The WCDC has also worked to clean up and improve Wilkinsburg's streetscapes and image by installing banners and litter receptacles, refurbishing lampposts, and planting over a hundred trees and plants throughout the business district.
Wilkinsburg has all of the ingredients for a successful Main Street Program: a traditional business district, a core of strong businesses, and historic building stock. In addition, Wilkinsburg's strategic location along Penn Avenue and the East Busway position the borough as the next location for economic and transit-oriented development along the Penn Avenue Corridor. Through the state's Neighborhood Partnership Program, the WCDC has already hired a full-time Economic Development Program Coordinator to oversee the Main Street Program and ensure its success.
To learn more about Wilkinsburg's acceptance into the Main Street Program and how this will impact the borough, businesses, and residents, please contact Chuck Alcorn, Economic Development Coordinator/Main Street Manager, at (412) 727-7855 or chuck@wilkinsburgcdc.org.
About the Main Street Program
The Main Street Program, which has been utilized in communities across the United States since the early 1980s, offers a comprehensive, community-based approach to revitalizing downtowns and central business districts. More information is available at padowntown.org/programs-services/main-street.
About the WCDC
The WCDC was formed in June 2008 with a mission to revitalize Wilkinsburg and surrounding areas through business and residential development, organizational and individual civic leadership, and cultural enrichment. The WCDC's main program areas include Business District Revitalization & Safety; Image & Identity; Clean, Green & Safe; and Education & Youth. More information is available at wilkinsburgcdc.org.