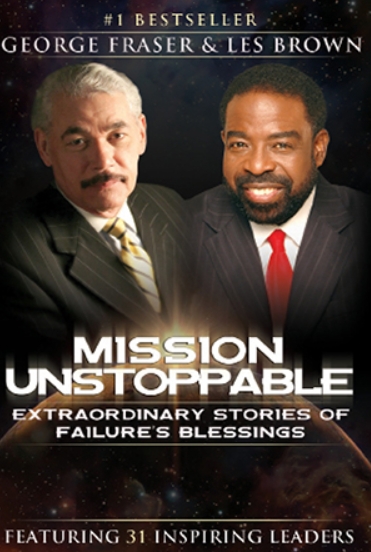 Mission Unstoppable: Extraordinary Stories of Failure's Blessings is a collaboration of stories that depicts the struggles of 31 inspiring leaders and the challenges they faced while traversing their personal and professional road to success. Mission Unstoppable: Extraordinary Stories of Failure's Blessings reveals these inspiring leaders desire to reach their goals and reasons for not giving up. "Failures and mistakes are the precursors of success. If you are not doing both, you are not taking any risks and success will elude you," says Dr. George C. Fraser, America's Top Networking Guru.
Inspired by Dr. George C. Fraser, author of 5 best-selling books including Click and Success Runs in our Race, and recently inducted into the Minority Business Hall of Fame and Museum, with America's number one motivational speaker, Les Brown, this book will fill you with inspiration and passion to achieve your own dreams and be unstoppable.
Dr. George C. Fraser is Chairman and CEO of FraserNet, Inc., a company he founded some 28 years ago, to lead a global networking movement for people of African descent. Born in Brooklyn, NY, he was an orphan and foster child for 15 years. He's written 5 best-selling books to include: Success Runs in Our Race, Click and most recently, Mission Unstoppable: Extraordinary Stories of Failure's Blessings, a book he co-authored with Les Brown.
Upscale Magazine named him one of the "Top 50 Power Brokers in Black America," and Black Enterprise magazine called him "Black America's #1 Networker". He's been featured on 7 national magazine covers, and has received 350 awards and citations to include 2 honorary Doctorate Degrees and an Ambassadorship. He's been married to Nora Jean for 42 years and has 2 sons. Dr. Fraser is most proud of the 2 African-centered charter schools he helped found which educate nearly 300 inner city Black children, of which 70% are boys.
Nationally, for interviews or more information, our national spokespersons are: Dr. George C. Fraser (Cleveland, OH; 216-496-1287), Lanre M. Lee (Detroit, MI; 313-926-7000 ), Haki Ammi (Baltimore, MD; 410-209-9687 ), James J. Williams (DC metro/Prince Georges County, MD; 301-806-8614), Dr. Antione Moss (Cleveland, OH; 216-220-7252), and Jessica Robinson (New York, NY; 929-800-1184)
Books can be purchased on Amazon.com and selected local book stores. Published by Yinspire Media, San Francisco, CA.
PRESS CONTACT:
George C. Fraser
216-496-1287
gfraser@frasernet.com
www.frasernet.com