Tuesday, August 7, 2012
Women are Mountains Writers Retreat
Taos, New Mexico
Second day started with our daily stretch and yoga session. Breakfast and morning discussion continued with our week focus on the Paris Review Interview with Ralph Ellison, The Art of Fiction No. 8.  The group agreed that the interviewer's main focus was more so on the generalization and the labeling of Black literary work as a form of social protest. Our conversation was lively as we embraced Ellison's stance on clarifying for the interviewer, "All novels are about certain minorities: the individual is a minority. The universal in the novel—and isn't that what we're all clamoring for these days?—is reached only through the depiction of the specific man in a specific circumstance."
Our next writing exercise was to condense Monday's essay into a Six-Word Memoir. I wrote three: 1) Volcano eruption: willing, waiting, writing burst; 2) Fear of life drowns all dreams; and 3) Denial draws on rejections jagged lines.
Tuesday was another success writing day. On to some more fun. We are in New Mexico and I have seen more casinos situated in less land. So if you are a gambling fiend then you should be here. But I am not a gambling person. I am more interested in the exploration of the culture of a place.
It is not the heat that is bad, it is the sun. It is burning down like a meteor, so a hat in order as we visit the Taos Pueblo a few miles outside of town. The Taos Pueblo is considered to be the oldest continuously inhabited community in the United States. There are rules; no taking photos inside the church (San Geronimo Church) built in 1850; no photographs of tribal members without their consent; do not enter the cemetery; do not touch the river (well the words used were "Do Not Contaminate"), as it is their source of drinking water; do not climb any of the ladders and do not enter restricted areas.
There were many restricted areas. But you can appreciate and respect their need to keep their community pure of outside influences. Inside the church the ceiling were carved and highly polished wood beams (or Vigas). A statue of the Virgin Mary was placed at the altar (Santo). Our tour guide informed us that they believe in the Virgin Mary because she depicts the parallel of Mother Nature.
Our guide also shared information on how the Pueblo built their adobe dwellings (made of earth, straw and water mixed). These structures inside the Pueblo are over 1,000 years old. The dwellings are first built with bricks, and then the bricks are covered with more adobe. The scared village has no electricity or running water. They are allowed propane to assist with cooking. Many families cook on the traditional fireplace.
After the tour we went around to the different shops and one of the Pueblo males who was a drummer, played and sang a traditional song on his drum. The people were nice and if you asked a question they answered. This community owns a herd of cattle, plus a large herd of bison. They are self-sufficient in every way.
After this trip it was back home and dinner and we watched "Luther," the BBC crime series starring Idris Elba.  Goodnight all.
Taos Writers Retreat Week Sunday, August 5, 2012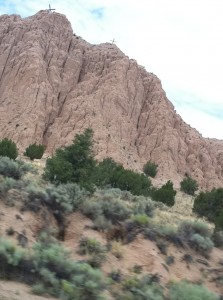 The rain is falling. The thunder growl resonates like an echo through a deep cave, a dark place which is the source of its pain. A place 7,000 feet above sea level, a beautiful town called Taos, New Mexico.
I am in Taos, a well-known artistic community for a summer writing retreat. This will be a week of writing, pulling on my creative side, and visits to local historic sites and attending poetic readings. What a better way to end the summer and celebrate my birthday?
My trip began in Pittsburgh with a 7:00 a.m. flight to Dallas then to Albuquerque and a shuttle van to Taos. The flights were uneventful and one time. The shuttle was different. I was closer to the ground and had the chance to ride through the Rio Grand Canyon. I first noticed the mountains growing on both sides coming through Sante Fe.
"Bonita, that is the Rio Grande River on your left hand side and in the distance you can see the mountain which is a plateau that goes on for about 15 miles." Soon thereafter we were able to see a couple of the white water rafting boats going down the river and through the rushing waters.
What was breath taking was the mountains of large rocks crumbled against the sides of the canyon. It was as though God had taken two boulders and smashed them against each other and the broken iceberg chunks of black rock rained down on the canyon walls. I will have to get a photo sometime this week.
Driving through the canyon we lost cell phone signals as the van pulled its way upward for several miles. When we leveled off we were entering the city of Taos. What I noticed first was the adobe style homes which reflected the heritage of the region's Pueblo Indians. These Native American Indians lived in adobe multistoried homes since the late 13th century. Majority of the homes were built in this same fashion, along with storefronts, and even the local McDonalds, all celebrated the tradition of adobe homes.
I am now sitting at the computer ready to call it a night.
Graduation: May 12, 2012, So Why am I not dancing?
May 2007 through May 12, 2012, a span of five years. Five years of 12 hours days; two to three times a week; nights when bedtime was pushed back until after 2am or 3am after the completion of a research paper. Nights when my arms stayed in one position completing 50 questions, thank you biology course for my case of tendonitis; thank you Quantitative Reasoning for my almost nervous breakdown (and no I still don't believe that 2+3=7 if the weird formula says it can, If.); thank you Algebra II for a reason to almost drop out in my 3rd year (I mean the last time I saw the word Algebra was in 7th grade and no I still don't believe that A=2x). What I am saying is that all I wanted to do was to develop as a writer; instead school was like life, speed bumps with every turn.
But similar to life, I experienced more joyous memories than bad. Intro to Literature (The Yellow Wallpaper. Laughing: I thought it was a story about a haunted house); Creative Nonfiction Writing (my introduction to the new more exciting sister of nonfiction writing); Poetry OutLoud (I did not know my voice was so poetically strong); all my history classes (and the interesting back/forth discussions with my instructors); I accomplished much in those five years and on Saturday, May 12, 2012 I walked across the stage at Soldiers and Sailors Memorial Hall in front of witness and received my undergraduate BA in Creative Writing with a minor in Professional Writing.
So why when I walked across that stage instead of feeling like a burden had been lifted, it felt as though an even heavier one was placed on my shoulders? The anxiety of writing a perfect poem or essay and being accepted as a creditable writer is still part of my life.
Next step is to apply to a graduate programs (MFA), one would think I was done with 12 hours days. With graduate school I will be revisiting those 12 hours days, plus two weeks of intense writing workshops in the Spring and Summer. My programs of choice are: Goodard College, Lesley University, Carlow University, Chatham University, Queens University in Charlotte NC, Bennington University, Vermont College, Fairfield University and Drew University and even though Goucher rejected my application stating my writing was not strong enough, I may reapply after some editing.
Some may think some of the programs are a bit lofty, but I am reaching for the stars, so I might as well stretch my arms as far as they will go and then a little further. I'll keep you informed of the status. I am waiting for the return of my application documents from the professional editor. I wanted to make sure there were no errors. For some reason I don't see errors as a problem for a writer, isn't that we have editors?
My shoulder will be heavy laden until I receive those acceptance letters or emails. Then I will be able to exhale and enjoy some of my achievements. Until then I am in work /stress mode. It is well worth it, as my goal is to teach poetry or creative nonfiction on the college level and facilitate community workshops and conference writing workshops, of course publish books.
March 2012
The Inside View of the AWP Conference in Chicago, IL. 2012
It is Thursday, March 1, 2012 and the weather is beautiful here in Chicago for the AWP Conference. Sheila Johnson-Carter, my writing buddy and friend, made it to the big city of Garret Popcorn, hot dogs with no Heinz ketchup and miles of shopping on Michigan Avenue. We successfully made our way from Logan's Square by the Blue Line. True to my personality, once we made it to the corner of Jackson and Dearborn, I did not know which direction to go; and I am not one to ask for directions, so blindly I led Sheila in the wrong direction for three long blocks, until she became tired of my confusion and asked a passerby. I reassured her that I would have found out sooner or later we were going in the wrong direction.
The AWP (Association of Writers & Writing Programs) Conference, the biggest and most reputable writing conference is being held at the Hilton Chicago and the overflow of workshops/panels were being held a few blocks away at the Palmer Hotel. Thank goodness the conference supplied a shuttle bus between the two, leaving me with little room to get lost. As we arrived a bit early on registration day, the lines were not as bad as they were to be Thursday morning.
The only event going on Wednesday was a reading sponsored by Columbia College Chicago MFA program at a bar way up the street at Villian's Bar. For Sheila it was a happy reunion of her Cave Canem workshop fellows. This was the first opportunity I had to actually hear the poetry of the Cave Canem fellows. It was a long night of great poetry and meeting fellow poets. The walk to the train was long and once we made it to my daughter's we crashed, but still excited about what was in store for us on Thursday.
Thursday would be the first full day of workshops. After being serenaded by a poet on the 82 Kemball who had something to say about every person who walked on the bus. His poetic verse which was funny but highly creative was a good way to start the day.
My first stop was the Exhibition Hall to seek out the booths of the MFA programs I had circled in my program. That morning I stopped by the booths of Goddard University, Lesley University, Drew University, South New Hampshire University and Antoich University LA and of course I picked up several literary journals and poetry books. I can never pass up an opportunity to broaden my reading and support my fellow authors.
With a heavy laden bag I caught the shuttle to my first workshop down at the Palmer House Hotel: 'Selling Out Everyone you Love: The Ethics of Writing Nonfiction.' Yes folks if you are a close friend, family member, co-worker, you will probably be mentioned in one of my many memoirs. Don't be mad be glad. No matter what our experience may have been good or bad, you will get your 15 minutes of fame. Don't thank me, at least not yet.
A few of the important factors I came away with from the workshop; Krista Bremer (Editor of SUN Magazine) when you think no one will ever read your publication in journals or books, in realty everyone will read them. When her father read her memoirs he mailed her an angry letter, upset that she published family business for everyone to read. She shared that she did not write about her father being a bad father, a drunk or an abuser, it was none of that, but she wrote of a time when his mother was sick and the things the family went through. He was not hurt because she publicized it, he was hurt because he still carried a painful memory of those times, things he perhaps had not come to terms with. The reaction of family and friends will be different depending on the emotional attachment or detachment they have of incidents.
She also said that the writer should remain humble about recollections, you don't write to get back at someone; revenge does not make a good read.
Writer Stephen Elliott said that a writer is able to change the identity of a character; you can change them from being short to tall, change the location, the weight, the race, little things that might throw people off from saying, "hey that's me." Or you can let people in your book, read the passage they are in. But all in all ask yourself why do you write and be who you are.
Lee Martin added, "All our lives have private truths." He also said that you have to be honest about yourself and other people. You can't write half-truths or cover up truths. If you are going to tell a story, you have to be willing to say it all. Your readers will be able to tell that you holding back, that you have left out some pertinent information and they won't trust you. Don't cheat the story, don't cheat yourself and don't cheat your readers. Press forward when you get to that place of discomfort, that's your story. Cheryl Strayed agreed, she said you have to write fearlessly.
The next panel A Face to Meet the Faces: Fives Poets on Persona, Empathy, and Race. The poets on this panel discussed the writer writing from a voice other than their own. A voice that deals with race. Something similar to the "for" poems I write in my Poetry Outloud class with Jan Beatty. We read another poet's work then write a similar poem in their voice. Patricia Smith came to the mic first and discussed how she got into the head of a racist skinhead for her poem Skinhead. She said she asked herself what caused this person to believe and act in this way. She opened the door and let this voice in. She stepped inside his shoes. Once you allow the character to get inside your head, you find unexpected entry into writing the poem. Patricia then read her poem "Skinhead." If the audience closed their eyes, the voice of the poet would disappear and the voice of the Skinhead would be so loud, you would be afraid to open your eyes. Afraid he would be standing there in front of you, ready to tear you apart. The next poet, Jake Adam York, a white man from Alabama who experienced the racist first hand during his childhood, said, "Race is the ghost all around me, I want to be free of it." He decided to write from a Black character. I felt as though he was afraid to open to the door to the racism and write from that view, which would had been a more powerful poem to me. But as writers we sometime tend to stay in a comfort zone with some topics.
Eduardo C. Corral was next a Mexican-American said that a good persona poem is where the writer is absent. To close out the panel Cornelius Eady asked the question, "What's going to become of the Black persona?"
The first AWP Conference day ended with the Cave Canem Legacy Conversation with Nikki Giovanni with Thomas Sayers Ellis. Sheila and I arrived early to secure a front row seat. By time the session started the Grand Ballroom at Hilton Chicago was packed. At first Ms. Giovanni came to the stage and spoke about her experience teaching poetry to her students at Virginia Tech and spoke of two projects she worked on in celebration of the written word: 73 Poems for 73 Years Celebrating the Life of Lucille Clifton and Virginia Tech Reads. She urged writers to take risks, to think big, to live on the edge. She reminded us that we are the children of Langston Hughes, be proud writers. She spoke of courage in writing, writing what is inside you and to continuous push yourself to that edge; and that if you are not scared of your own work, then you are not working. Now that is something to live by. Writing is not easy as some people think. She agrees like most serious writers, poetry is written to excite the reader, to make them think. Nikki Giovanni and Sonia Sanchez are my rock stars. Just to be in the same room, inspires me to be a better writer.
For lunch we stopped at the Bodega next door to the Hotel. Who walks in? Nikki Giovanni. She says something to the clerk, I turned around and said to her, "Sister, come sit with us" and like a old friend seeking comfort she walked right over and sat down and started fussing about the smart phone her people said she needs but she can't use and how Nikky Finney told her to call the number she wrote on a piece of yellow paper, and when she calls it keeps asking for a passcode. She hands me the paper and says, "This is Nikky's handwriting, it's her number." I say yes it is. We all laugh and talk like old friends. Sheila tells Nikki how I use her quotes when I read my poetry and you know me the emotional person I am, sniff, sniff, told her the latest quote I used with my Senior Portfolio, quoted her when she answered the question why did she write and she said, "I write to justify the air I breathe." Like to old friends we were we left and walked back to the hotel. Nikki mentioned how she wanted to do some shopping but was leaving that night. "I went into Saks, and they did my face real nice. I had to look nice for the interview." It was a pleasure to be in the same space as Nikki Giovanni, I shared with her that I write because of all the work she and other females poets did before me. I have to write.