Posted on
November 23rd, 2014
by soulpitt
The Galaxy II Ball "Blood Moon"
Saturday, December 6, 2014
The Wyndham Hotel (Oakland)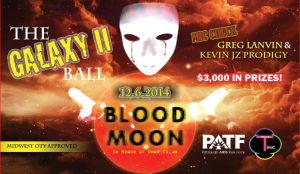 In honor of World AIDS Day, Pittsburgh AIDS Task Force (PATF) sponsors the second annual Galaxy II Ball on Saturday, December 6, 2014. All proceeds from this event will go to the Pittsburgh AIDS Task Force's "M2M Project." Soul Pitt Media interviewed John Easter, founder of True T Entertainment, and organizer of The Galaxy Ball.
John commented that this is Pittsburgh's second Ball, the first was held in 2013 at the Andy Warhol Museum where over 300 people were in attendance; with people from as far away as California, Canada, Florida, New York City, Chicago and Philadelphia. For those who are not aware of this subculture John shared some history behind the Balls. "Basically, this event is an underground competition which started from within the minority LGBT community." Members of different Houses compete against each other in regulated categories.
He continued to explain that the 'House' was established as a safe residence for young people who have been kicked out of the family's home because of their sexual preference. Each House has a name and each member would take it on as a last name. In Pittsburgh there are several full chapter Houses; House of Ebony, House of Revlon, House of Elite and House of Mizrahi. Most of the Pittsburgh Houses have a direct connection to those in Ohio and Philadelphia.
"The Ball scene is fairly new to the Pittsburgh area," John said. Commenting that nationally the Balls go back to the early 1970s. In the 1990 a documentary directed by Jennie Livingston, Paris is Burning, chronicled the ball-culture of New York's African-American and Latino, gay and transgender communities. The Galaxy II Ball will reflect and carry on this elaborately-structured competitive event. He also added that the Ball scene first arrived in Pittsburgh's Hill District where a large community of gays gathered, during the mid-1980s.
John commented that there will be a number of national participants, as well as, a large number of Pittsburgh's own LGBT community "walking" in the Ball. "Out hosts will be from Philadelphia and New Jersey. They are well-known in the scene and their names will bring people to the Ball," John said. As another way to promote this event the hosts have been promoting the Pittsburgh Ball in each event they've hosted throughout the year. Additional promotion has been the mighty powerful word-of-month, social media; their sponsors/vendors which include WAMO radio station, PATF, and AIDS Coalition of Southwest Pennsylvania (ACSWP). Read more »
Filed under: Arts & Culture, General | No Comments »