Posted on
November 22nd, 2013
by soulpitt
Madwomen Reading Series Presents
A Poetry Reading by Patricia Smith
Saturday, November 23, 2013
Kresge Theatre, Carlow University
Reading at 7:30 p.m. (book table at 7 p.m.)
Reception and book signing following the reading.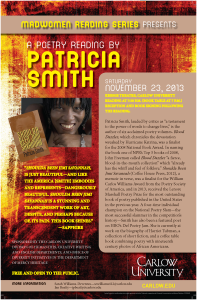 Free and open to the public
Patricia Smith, lauded by critics as "a testament to the power of words to change lives," is the author of six acclaimed poetry volumes. Blood Dazzler, which chronicles the devastation wreaked by Hurricane Katrina, was a finalist for the 2008 National Book Award. In naming the book one of NPR's Top 5 books of 2008, John Freeman called Blood Dazzler "a fierce, blood-in-the-mouth collection" which "already has the whiff and feel of folklore." Shoulda Been Jimi Savannah (Coffee House Press, 2012), a memoir in verse, was a finalist for the William Carlos Williams Award from the Poetry Society of America, and in 2013, received the Lenore Marshall Poetry Prize for the most outstanding book of poetry published in the United States in the previous year. A four-time individual champion on the National Poetry Slam—the most successful slammer in the competition's history—Smith has also been a featured poet on HBO's Def Poetry Jam. She is currently at work on the biography of Harriet Tubman, a collection of short fiction, and a coffee table book combining poetry with nineteenth century photos of African Americans.
"Shoulda Been Jimi Savannah, is just beautiful—and like the America [Smith] embodies and represents—dangerously beautiful. Shoulda Been Jimi Savannah is a stunning and transcendent work of art, despite, and perhaps because of, its pain. This book shines." – Sapphire
Sponsored by the Carlow University Division of Humanities, Creative Writing and English Departments, and Office of Diversity Initiatives in the Department of Mercy Heritage.
More information:
Sarah Williams-Devereux: sewilliams412@carlow.edu
Jan Beatty: jpbeatty@carlow.edu
Filed under: Literary Haps | No Comments »