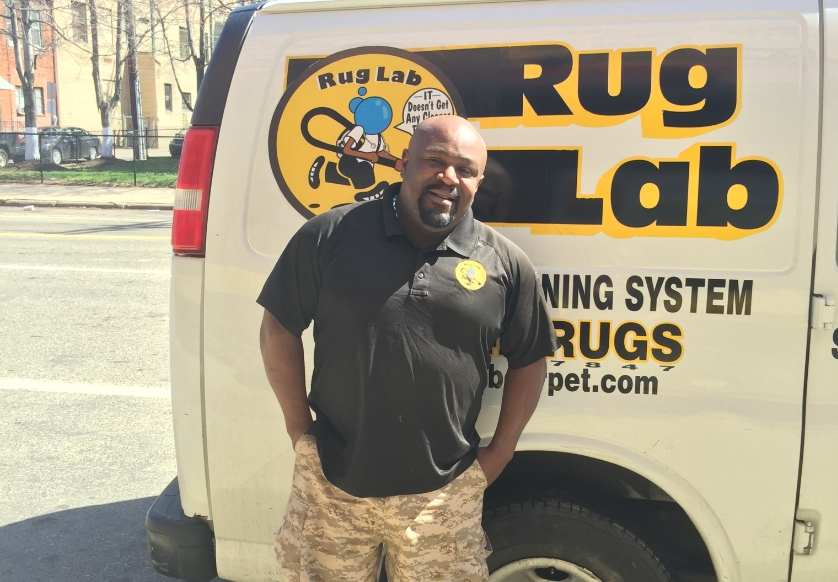 Among other things, Chris Floyd, owner of The Rug Lab, a local commercial carpet cleaning company, has held a variety of different jobs in his past. He's been everything from a dishwasher to a sergeant in the Marine Corp, to a police officer just to name some of his endeavors. Plus he is the recipient of a masters degree as well as a Ph.D.
It is his work history that served as his motivation to turn the efforts he used to working for others, into growing his own business.
He used some funds he had set aside and purchased one van and got to work.  In 2007 his carpet cleaning company, The Rug Lab was established.  Floyd says, "I had been up and I had been down and I saw this chance to get back up again and realized that was the only way for me."  
The name 'Rug Lab' was born when his daughter suggested that he was doing more than cleaning carpet, he was doctoring on them, coming up with a way to make the look brand new.  Since Floyd has a Ph.D., she suggested the business be called The Rug Lab.
This home based business that started out taking $50.00 jobs just to get started, has progressed to upwards of over 86 commercial accounts, 5 Vans, 17 employees, three office staff and about to move their administrative offices into the building on Frankstown Avenue where the Rite Aid was going to be.
He shares, "It is hard to believe that when we started in 2007 we were taking small jobs just to get our hook into the business and before we received the first commercial client, which was Spring Hill Suites, I had to sell my stainless steel refrigerator just to keep my phone on."  He continues, "I've had to work day and night, but I did what I had to do to build this business."
His company is by far, for Floyd, the most important and satisfying work he has ever done.   He shares, "One drawback is that I really do work all the time, there is very little down time for me, but the payoff  is having myself as my own boss and  that makes it worth it."
Other satisfaction for Floyd in running his business comes in a variety of ways.  He says, "As the only African American carpet cleaning company in Pittsburgh.  I'm committed to housing my business in the black community; I'm committed to providing employment opportunities for young men and women who may not always get them.  As such, I am committed to attempting to show by example what the results are from hard work, dedication and work ethic, independence and a business that can make the difference in your life."
He adds, "Also, being the only Black operation in town requires high-level performance; that is another reason I work all the time.  I must respond to my clients 24-7 and I must require the best from my staff.  When we go to homes in North Hills they look at our race and see 'here is a quality Rug Cleaning Company that is giving me the best service for my money."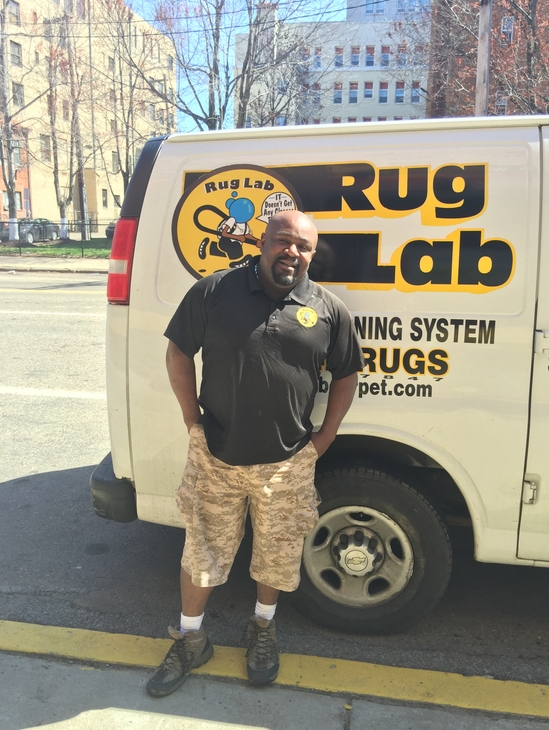 In 2014 when Floyd entered the Urban Innovation 21 Competition, he knew winning it could make the difference to take the business to the next level.  And The Rug Lab did win the 2014 top prize of $10,000.  He says, "This win was a game changer for us because with it we were was able to purchase the portable hose units that would allow us to take our hoses up past 10 stories.  This opened the doors for new clients like K&L Gates that increased our revenue drastically.
He says the long hours don't bother him because he is on a mission and has goals.  His goal he says "Is to remain financially solvent," his mission he says "is to make sure I leave a legacy for my children."
The long term goal for the business is to break of into a full service Janitorial Service and to be a one stop shop for all janitorial, building mechanical, and pest control services.
For more information on The Rug Lab, or to schedule a consult for an estimate, contact Christopher Floyd at 412-427-9554 or at chrisfloyd@gmail.com
This article was first published in Soul Pitt Quarterly Print Magazine (Spring 2016).  Copyright Soul Pitt Media.  All Rights Reserved.