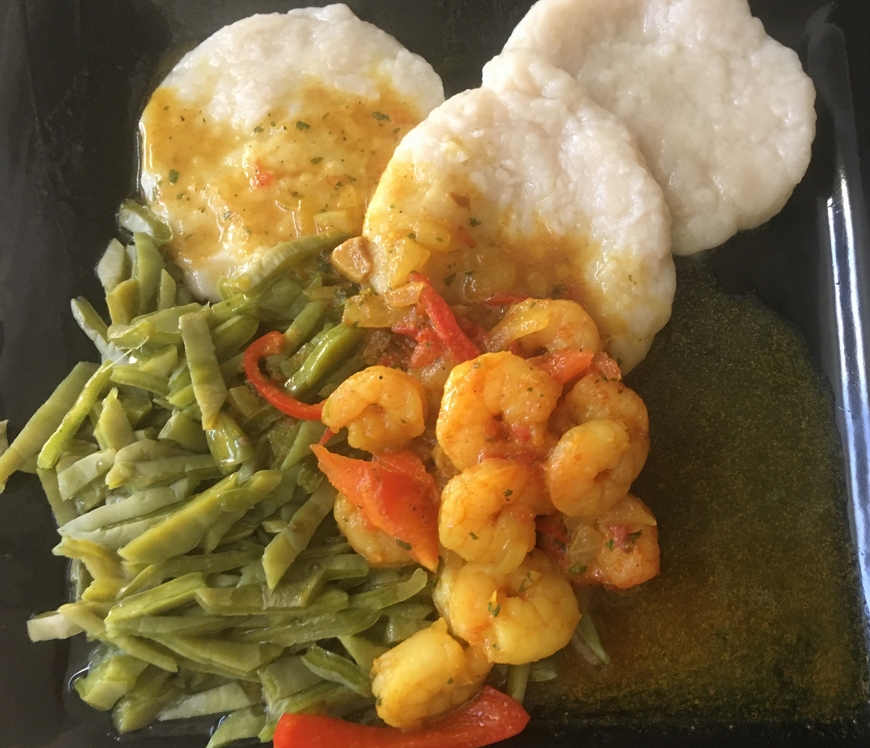 While on a visit to California for my nephew's high school graduation, my niece Nikki wanted a taste of some West Indian food that she didn't have to cook.  Of course, being the nice auntie I am, I indulged her taste buds.  The dish changed several times because we couldn't find any salt fish, red herring or goat so we went with the baby shrimps.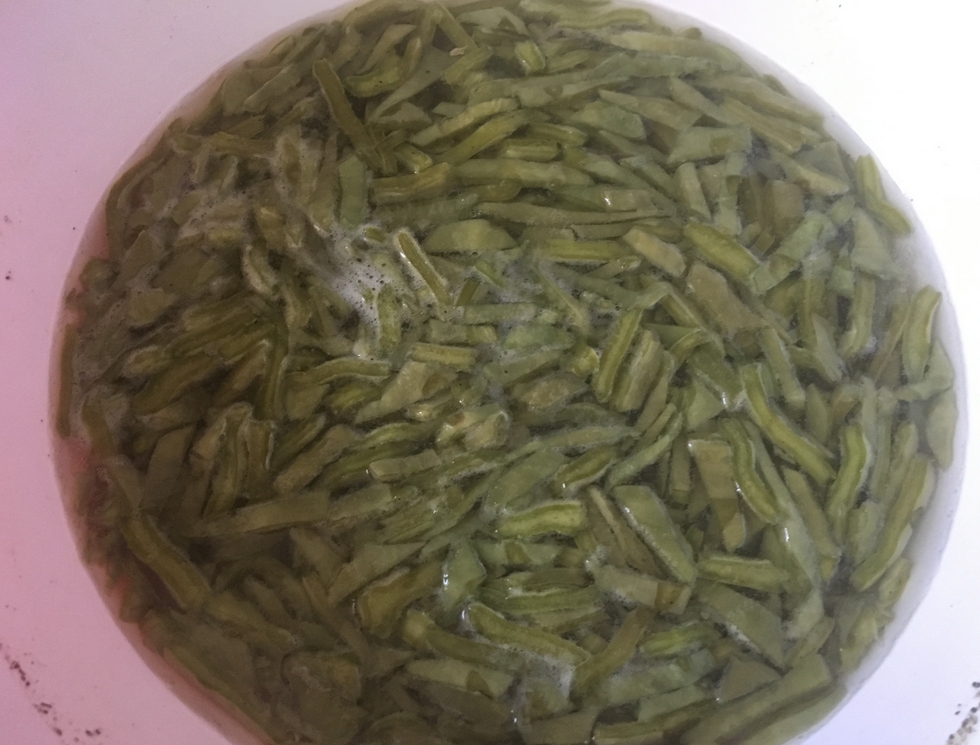 Nikki called the dish simple-extreme because it does involve a bit of work but nothing that's too hard in the kitchen.  In Pittsburgh, some people may call it cactus and it can be found in the Strip District.  You need to remove the prickle spikes then slice it into strips like string beans then boil in a pot of water with a bit of salt and butter.  After it's cooked, it will be a bit slimy at which point you drain it in a strainer. That's your veggie.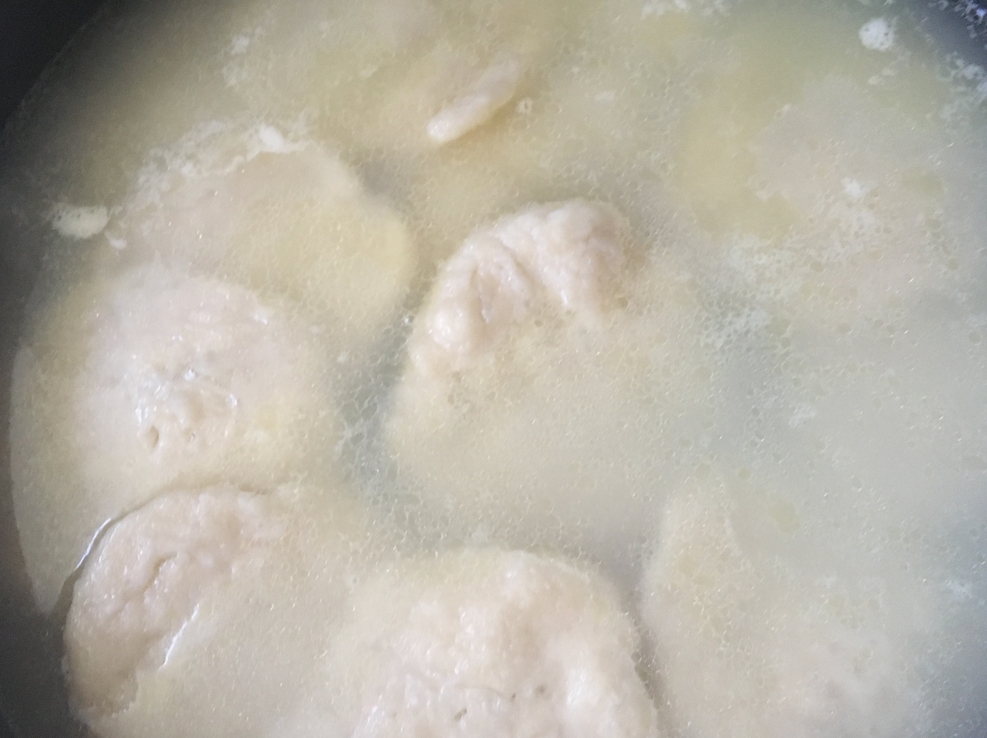 Now for the white dumpling. You'll need flour, salt, baking powder and water.  You add all the dry ingredients to combine well then add water slowly mixing it up until you form a dough ball. The dough ball should be slightly tacky to touch but without dough coming off onto your fingers. You pinch off a small amount in your hand, be sure to have some flour on your hand to roll the dough then roll it in into a disc shape.  When completed with your amount.  Place the disc shaped dough into a large boiling pot of water that already contains salt and butter.  Stir the pot occasionally to prevent the dough from sticking.  The dumpling is cooked when it's a pale translucent color or you stick it with a fork and it goes in easily and comes out without flour.
As for the curry baby shrimp.  I like to add red bell peppers, tomato, garlic and onion for my curry sauce.  Sauté the vegetables in a frying pan with a bit of cooking oil then add the shrimp, stir then add water.  At this point add the curry, salt and pepper.
So nice, easy and delicious. Hope you enjoy as much as my niece.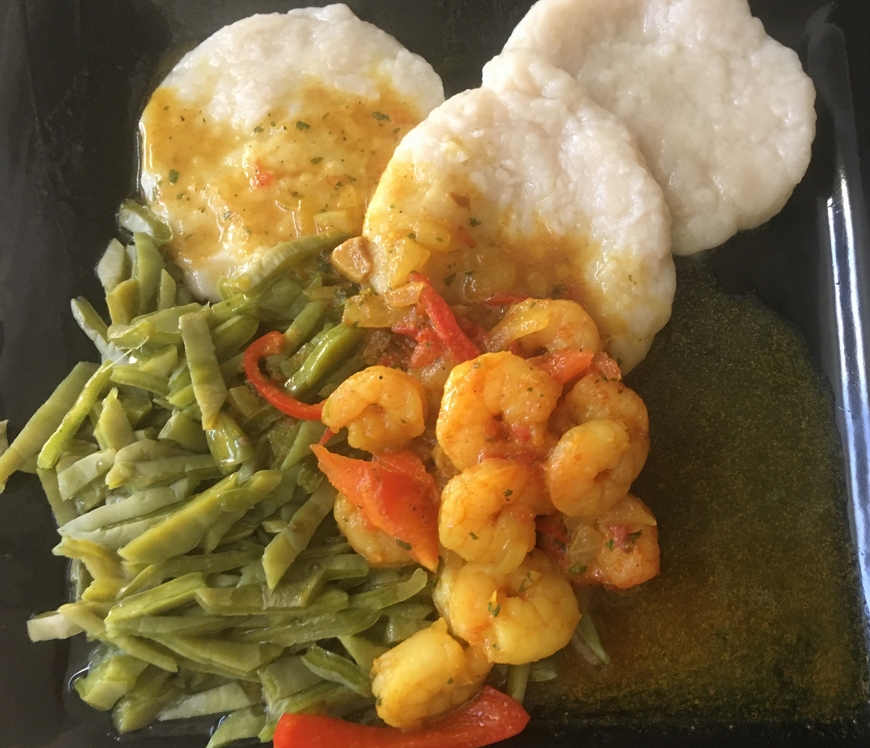 This article was first published in Soul Pitt Quarterly Print Magazine (Summer 2016).  Copyright Soul Pitt Media.  All Rights Reserved.