Posted by The Soul Pitt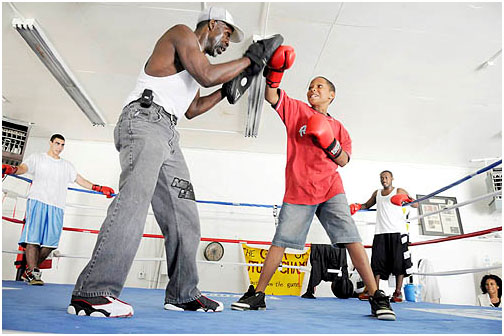 Mr. Chisholm's criminal career began as a juvenile at age 12. Addicted to crack, he would serve time in prison, get out and go right back to his corner in the Hill District. With a promising career as a boxer at the age of 24 and training for a huge fight in 1969, was all dashed away when police arrested him on drug charges.  However, sixty three year old Larry Chisholm proves that it is never too late to turn your life around. 
 Finally, during his eighth sentence at the age of 51, it hit him. Enough was enough. He was sick of the destruction of selling drugs, ruining marriages, ignoring his kids.  He resolved to start his own boxing ring to keep others from ending up like him.
If Larry had only bad breaks growing up poor — a loving but alcoholic mother and a father who left — he finally caught a lucky break when he got out of jail in November of 2004.  He read want ads for an apartment and ended up asking Randy, owner of Castriota Metals & Recycling in Brookline and McKees Rocks, to rent one of his units. He wasn't hopeful.  What successful white Catholic businessman from Peters was going to rent an apartment to an African-American Muslim ex-con from the Hill?  But Randy, who saw a sincere person in front of him, said, "Yes." He offered the ex-con a tiny apartment in Dormont and a $6-an-hour job at his recycling plant.  "No matter where you start, we are all the same," Randy said.  The unlikely duo was the subject of a Post-Gazette story in 2006.  "What's your dream, Larry?" Randy asked his new employee a few months later.  "A boxing gym," he answered.
Larry learned a lot about the professional world by watching Randy, a take-charge guy who would work in a suit in his office one day, operate a forklift the next.  "Write down your goals," he told Larry.  Randy, whose cell phone seems to ring every 30 seconds, pressed for favors from his many contacts. The nonprofit, anti-drug, anti-crime program received $50,000 in state funding after getting sponsorship from state Sens. John Pippy, R-Moon, and Wayne Fontana, D-Brookline. The Allegheny County District Attorney's Office chipped in $5,000. Wilkinsburg officials donated the former medical building at 710 Swissvale Ave. for $1. Contractor Billy Ward and Quinn McCall did renovations, and scores of companies donated supplies.
While Randy gave a lot, he demanded a lot, too.  "Randy reminds me of a prison guard," Larry said. "He says, 'Turn your TV off, Larry.' I get flashbacks to prison. That is when I have to remind myself. It's Randy. It is not a prison guard. It is not a judge. He taught me how to be responsible."  While Randy was out getting corporate backing and giving other ex-cons a chance — he has seven ex-offenders working for him and rents units to another five — Larry was learning how to incorporate and run a nonprofit. He met Ruth Clanagan, who had worked in various nonprofits before and volunteered her time as a consultant to the gym.
Ruth laid down the law for the gym. No gangster rap music. No cussing. No smoking. The gym was for the kids. There will be computers for a literacy room, mentors, nutritional and health counseling. Even the mascot will be a child. Instead of bikini-clad women holding placards during amateur fights, Ruth's 5-year-old granddaughter, Whitney Hamilton, will hold up the round cards.
Ruth focused Larry too. "Every time I jump ahead of myself, I get my nose chopped off by Ruth Clanagan. She is like my mother."  Ruth figures it will take $250,000 a year to run the gym, including a $40,000 salary for Larry as head trainer. He also trains professional boxers such as Chris "Nightmare" Stallworth and Paul Spadafora. The money he charges the pros will help fund the program for the kids. So far, he said, 200 children have expressed an interest.
Well Larry's dream became a reality.  The Gym of Future Champs located in Wilkinsburg opened in August 2008.
Larry talks big about opening boxing camps, of running prison boxing programs, of opening Gyms of Future Champs in the Hill District, North Side, Homewood and East Liberty. He points to one of his boxers and says, "He is no joke. He is going to be the one. I will sic him on Randy sometime."  Some people laugh at his grand visions.
"People say, 'Larry you are dreaming.' I say, 'This whole thing was a dream. Look at where we are now.'"
If you would like more information about the Gym of Future Champs, or how you can donate your time or talents call:  Larry Chisholm at 412-758-1129.
Photo courtesy of Lake Fong/Post-Gazette
Filed under: *Spiritual News & Events, Local Souls