Posted by The Soul Pitt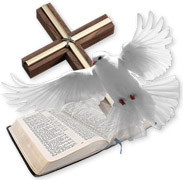 I am sure that you have heard plenty of people say, "that was in the Old Testament we are living in the New Testament".  Well I am here to tell you that God does not change, "He is the same yesterday, today and forevermore". (Heb 13:8 NAS).
It is so disheartening that the body of Christ, yes Christians, believe that the things God stated in the old testament are not applicable to the modern world.  I have encountered so many individuals who always say that God won't send me to hell for doing this, that and the other.  I tell them you are correct, no He won't, but you will send your own soul to hell.  When God said in his Word "If there is a man who lies with a male as those who lie with a woman, both of them have committed a detestable act; they shall surely be put to death.  Their bloodguiltiness us upon them".  (Lev. 20:12 NAS).  Yet, the homosexual lifestyle is readily accepted in the church today, when God said NO!
In the book of Exodus chapter 20:3, God said, "you shall have no other gods before me" He meant just that.  However, many people today have made gods out of their careers, money, children and yes, even their pastors.
God is not like man, meaning He is not unstable and doubleminded in what He has said or what He does.  For God would rather that we be hot or cold, but a lukewarm person He will vomit you out of His mouth. (Rev. 3:16 NAS)  God's word is not going to change to fit my lifestyle or yours.
In the book of Ezekiel, God told him to eat the scroll, which is the Word of God, and to go to the house of Israel and speak His word.  (Ezekiel 3 KJV). People, I am pleading with you this day to open up your spiritual eyes and to take on the mind of Christ, and to live according to the Holy written word of God.  If you say you love the Lord God with all of your heart, mind and spirit, get to know Him through the reading and understanding of His word, and abide in His precious Holy word daily.  Hide the word in your heart that you won't sin against Him, (Ps. 119:11) 
Don't allow satan to decieve you any longer, don't wait until it's too late.  Get your life in order while it is still day, because the night is soon coming when no man will be able to work.  WAKE UP Church, PLEASE WAKE UP!
God Bless!
Minister Terina J. Hicks
Filed under: *Spiritual News & Events, Spiritual Announcements, Spiritually Speaking