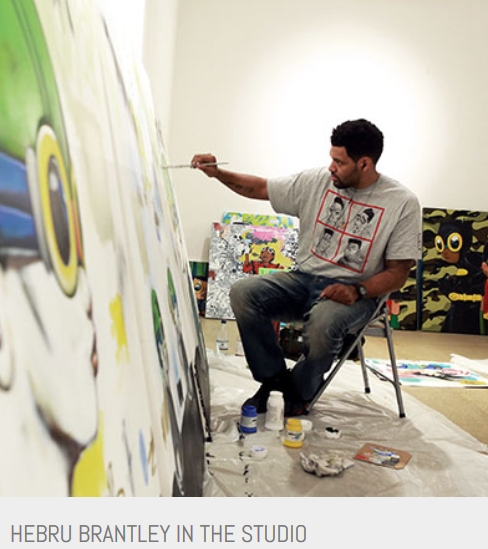 PITTSBURGH CULTURAL TRUST ANNOUNCES
HEBRU BRANTLEY
WORLD RENOWNED ARTIST RETURNS TO PITTSBURGH TO
CREATE MURAL IN WILKINSBURG COMMUNITY
Brantley Brings Meaningful Mural to Neighboring Pittsburgh
Community of Wilkinsburg
MURAL TO BE COMPLETED BY APRIL 29, 2017
Pittsburgh, PA—Hebru Brantley, the Chicago based world-renowned artist, made his Pittsburgh and Pennsylvania debut in May of 2016 with I WISH I KNEW: HOW IT FELT TO BE FREE. The exhibit was Brantley's Pittsburgh premiere and was presented by the Pittsburgh Cultural Trust and on display at the August Wilson Center for African American Culture, 980 Liberty Avenue, Downtown Pittsburgh.
Nearly a year later the Pittsburgh Cultural Trust will bring Brantley back to Pittsburgh to leave his mark yet again, but this time with a much more permanent piece of art, in the form of a large scale mural that community members and art lovers can admire and be inspired by for many years to come.
"Street art is a way of campaigning for me, getting my work out there to people who may not typically be exposed to it. It gives the community something to connect with." said artist Hebru Brantley. The mural in Wilkinsburg will be a "Flyboy" flying. It is important to me to depict a black kid traveling safely through the city. Flyboy is a symbol of what it means to fly in your imagination and community. This idea is carried out through murals all over, from Atlanta to LA to Chicago. I am excited to work with the Pittsburgh Cultural Trust again and to add Pittsburgh to the list."
Conversations around creating a Pittsburgh mural began in 2015. "I first saw Hebru Brantley's work at the American's for the Arts Conference." shared Marqui Lyons, Program Manager of Community Engagement and Strategic Partnerships at the Pittsburgh Cultural Trust. "Hebru and poet, Kevin Coval, were discussing the impact Hip Hop has had on their work, and I was mesmerized by Hebru's Illustrations that covered Coval's book, The BreakBeat Poets, and later with the character "Flyboy", that I saw in a nearby mural. I became determined to bring this unique artist and his work to Pittsburgh for an exhibit and possible community mural."
"The Pittsburgh Cultural Trust can add our city to the notable list of locations Hebru Brantley has presented his mural masterpieces and works of art," commented Janis Burley Wilson, Vice President of Strategic Partnerships and Community Engagement at the Pittsburgh Cultural Trust. "Presenting contemporary art and artists of Hebru's caliber is crucial to advancing Pittsburgh's arts scene and to developing Pittsburgh into a more inclusive and welcoming city. Giving the gift of art to a community like Wilkinsburg ties in to the mission of the August Wilson Center; promoting, celebrating and supporting African American culture.
Collaborating with Wilkinsburg councilwoman, Marita Garrett, the Wilkinsburg Community Development Corporation, and the Wilkinsburg Arts Council, a location was identified in the fall of 2016. "With numerous lists and articles that discuss the most livable cities in our nation; we all find ourselves asking what makes a livable community. Is it nice houses? Variety of businesses? Schools? While these all play a role – it is vital to look at the arts and culture of a community. For any community the arts and culture are an essential," said Marita Garrett, councilwoman and Wilkinsburg Mayoral Candidate. "As an art commissioner and Vice President of Council, I'm thrilled that Hebru and the Cultural Trust chose Wilkinsburg to place this mural. Hebru's message through his work is important for our residents, especially our youth to see that they can thrive and be whomever they strive to be. We are honored to have his work during this time of rebirth of Wilkinsburg, as we keep moving forward."
The mural will be located at 501 Wallace Avenue in the city of Wilkinsburg, Pennsylvania. The building was once a meat warehouse with a large wall that faces Penn Avenue. It is a highly visible facade that both Wilkinsburg residents, businesses and commuters see daily. It is also directly across from the Port Authority park & ride where hundreds of vehicles enter and exit for bus commuting to downtown Pittsburgh. A community and press event will be held on Friday, April 28, 2017 to celebrate the unveiling of Brantley's mural and Wilkinsburg's newest international attraction. More details to be announced at a later date about the community press event.
###
ABOUT HEBRU BRANTLEY
Hebru Brantley breaks down the walls of cultural boundaries through his art. Inspired by his 1980's Chicago upbringing, Brantley's work touches on tough subjects in a way that may be easily digestible to the viewer, by telling his stories through youthful characters and their adventures. Brantley's work can be described as pop- infused contemporary art inspired by Japanese anime and the bold aesthetics of street art pioneers Jean Michel Basquiat, Kaws and Keith Haring. While spray paint is often at the forefront of his mixed-media illustrations, Brantley utilizes a plethora of mediums from oil, acrylic and watercolor to non-traditional mediums like coffee and tea. A keen observer of life, Brantley calls upon his characters to help create different narratives throughout his work. Brantley's recent focus is to share energetic narratives— moments of reality from his life and the lives of his peers, mixed with fantastical fiction— to create a fragmented environment of make believe. Brantley's pieces evoke the quintessential combination of nostalgia and inspiration in those who are able to experience his works. Recognized nationally for public works and solo shows, Hebru Brantley has exhibited in London, Geneva, San Francisco, Atlanta, Miami, Seattle, Los Angeles and New York including Art Basel Switzerland, Art Basel Miami, Scope NYC and frieze London
Save
Save
Save