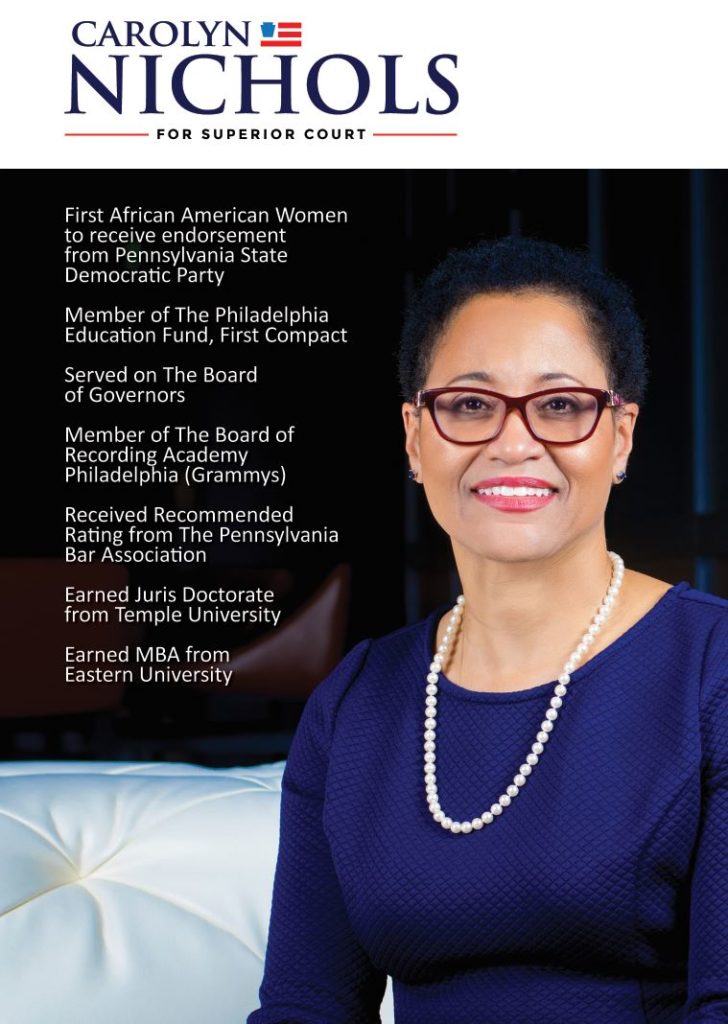 The Honorable Carolyn H. Nichols, a native of Philadelphia, Pennsylvania is an advocate for justice and a catalyst for equality.
Elected to the Court of Common Pleas in 2011, Judge Nichols presides in the criminal division. She handles major trials, most of which are felony jury trials in criminal court, managing thousands of cases, dealing with the most vulnerable citizens in crimes that destroy lives and communities. She continuously works to create opportunities for positive reentry to prevent recidivism.
Growing up in Philadelphia and attending public schools, she understood the value of education. Carolyn is a second-generation attorney, earning her Juris Doctorate from Temple University and a MBA from Eastern University.
Her professional career spans over 20 years of public service, including Legislative Assistant to former Councilwoman Augusta Clarke, Assistant City Solicitor, Deputy Secretary of External Affairs for the Mayor's Office, and Deputy Finance Director, managing the Minority Business Enterprise Council.
In 2014, Philadelphia City Council honored Nichols for receiving the City Office of Economic Opportunity's Guardian of Economic Inclusion Award for her service as MBEC Director. Nichols has received recognition for her community service, including the Overbrook High School Hall of Fame.
She was co-counsel for the Huntingdon Valley swimming pool racial discrimination case in 2009, in which minority children were denied access to the Club's pool.  The case received international attention.
In 2007 and 2008, the Philadelphia Tribune honored her as one of the City's Most Influential African Americans.
Judge Nichols is active in mentoring, and peace building programs in public schools to stop violence, and to disrupt the school to prison pipeline with groups such as School Dist. FACE (Family and Community Engagement).  She promotes inclusion and dialogue with groups such as, Mothers in Charge to stop the senseless youth homicides; PhilaPosh for worker safety; Truman Project for international understanding; Masjidullah; Al Aqsa Islamic Society; Jewish Federation of Greater Phila; Greater Phila Hispanic Chamber Commerce; BMEC (Black male educators); and NewCore – generating conversations on race and ethnicity.  Judge Nichols initiated a dialogue group with African American and Jewish professional women with the American Jewish Committee.
She is a member of the Philadelphia Education Fund, Education First Compact, to improve public education in local schools.  During the 2008 Presidential Campaign, she helped deploy 8,000 attorneys at polling places across PA, for PA Voter Protection, and served on the Board of Governors, Recording Academy, Philadelphia Chapter (Grammys).
Judge Carolyn H. Nichols is the first African American woman who received the democratic endorsement from the Pennsylvania state party. She's received a recommended rating from the Pennsylvania Bar Association and many endorsements across the Commonwealth.
With the continued support of everyone in the Commonwealth, Judge Carolyn H. Nichols will have the opportunity to serve on the Pennsylvania Superior Court. In her courtroom, you can count on her to be fair and impartial to make the hard decisions, while upholding the constitution.
Join the movement! Get involved by visiting, www.NicholsForPA.com.