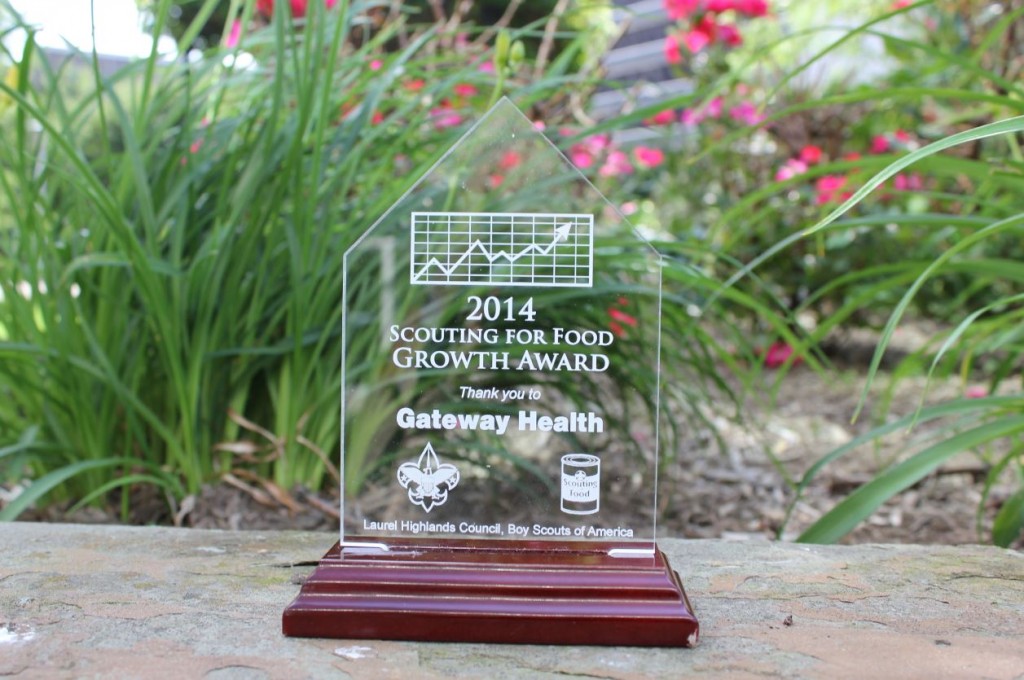 Hunger costs the State of Pennsylvania $6 billion every year
PITTSBURGH, June 24 – Gateway HealthSM received the Growth Award from the Laurel Highlands Council Boy Scouts of America for surpassing  last year's food drive contribution in their company-wide Scouting For Food Campaign.
The Scouting for Food Campaign is the largest food drive campaign in Allegheny Country and runs throughout the month of April. Each year, local companies, as well as community organizations and families, are encouraged to hold independent food drives. The Pittsburgh Community Food Banks assists with delivering the collected food items to the appropriate centers and distributing food and other supplies to local families and individuals facing food insecurity issues, many of which are also Gateway members.
"It was a great honor to represent Gateway Health at the awards luncheon and during the campaign. The Boy Scouts support Gateway's mission of caring for others and echo our mission of meeting individuals where they live," stated Harry Manley, Sr. Community and Program Development Specialist, Gateway Health, who was the coordinator of Gateway's 2014 Scouting for Food campaign.

About Gateway Health SM:
Gateway HealthSM is a nationally ranked managed care organization that delivers quality and affordable healthcare to Medicaid and Medicare eligible individuals. Gateway Health serves the needs of at risk and vulnerable citizens. Gateway members have benefitted from services such as disease management, health and wellness programs and preventive care. With more than 20 years of service to the community, Gateway strongly believes in doing things "a better way." To learn more, visit www.gatewayhealthplan.com.
About Boy Scouts of America:
Since its inception, the Boy Scouts of America has become one of the nation's premier youth development organizations, with more than 100 million youth and adults participating since 1910. For a history of Scouting for Food, read here. Scouting For Food campaign.
###   ###   ###