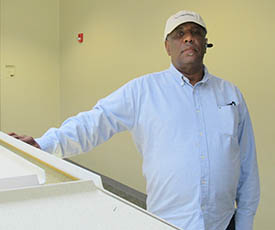 Soul Pitt would like to congratulate our friend Lorenzo Boone for being accepted to this prestigious Pittsburgh Filmakers Flight School Program.  As the only African-American fellow, we are very proud of Lorenzo and we invite you take time to view his short film "Woogie" at the top of our website on Soul Pitt TV and also read more about the Flight School Fellowship cohort below!
———————————————————
Pittsburgh Filmmakers/Pittsburgh Center for the Arts (PF/PCA) announces the acceptance of the 2017 Flight School Fellowship cohort. Flight School is an intensive and comprehensive 10-week professional artist development program. Fifteen artists working in a variety of media have been accepted as part of the 2017 Flight School Fellowship. The 2017 Flight School Fellows are:
Brittney Aston, Lorenzo Boone, Eric Boyd, Nick Childers, Sheila Cuellar-Shaffer, Sophie Goldstein, Ephen Hager, Stephen Knezovich, Laura Krasnow, Daniel Luchman, Jason Mendez, Jake Reinhart, Maree ReMalia, Nicole Ryan, and Hilary Schenker.
The purpose of the program, which began in 2011, is to directly influence the professional development of individual artists in the region by giving them the skills they need to thrive. They emerge from the program with an action plan, a sense of confidence about their artistic career, resources, and a network of relationships to help achieve their goals.
The Fellowship is comprised of a cohort of diverse artists selected through a rigorous application and jury process. The Fellowship begins with a weekend immersion in the nationally renowned Creative Capital Professional Development Program. The eight weekly sessions to follow include engaging discussions with aspirational guest artists and leaders from the Pittsburgh arts community, which encourage resource and relational development. The fellows are led through workshops that focus on the nuts and bolts of professional practice, with goal-setting and achievement as the driving forces behind the curriculum. The Fellowship includes a modest stipend for participants.
Flight School Fellowship is a project of PF/PCA and is funded in part by the Heinz Endowments. Creative Capital is a New York City-based national nonprofit organization that supports innovative and adventurous artists across the country through funding,
counsel, and career development services.
Learn more about the Flight School Fellowship at www.pfpca.org/flightschool.
Save
Save
Save