By Shelia Beasley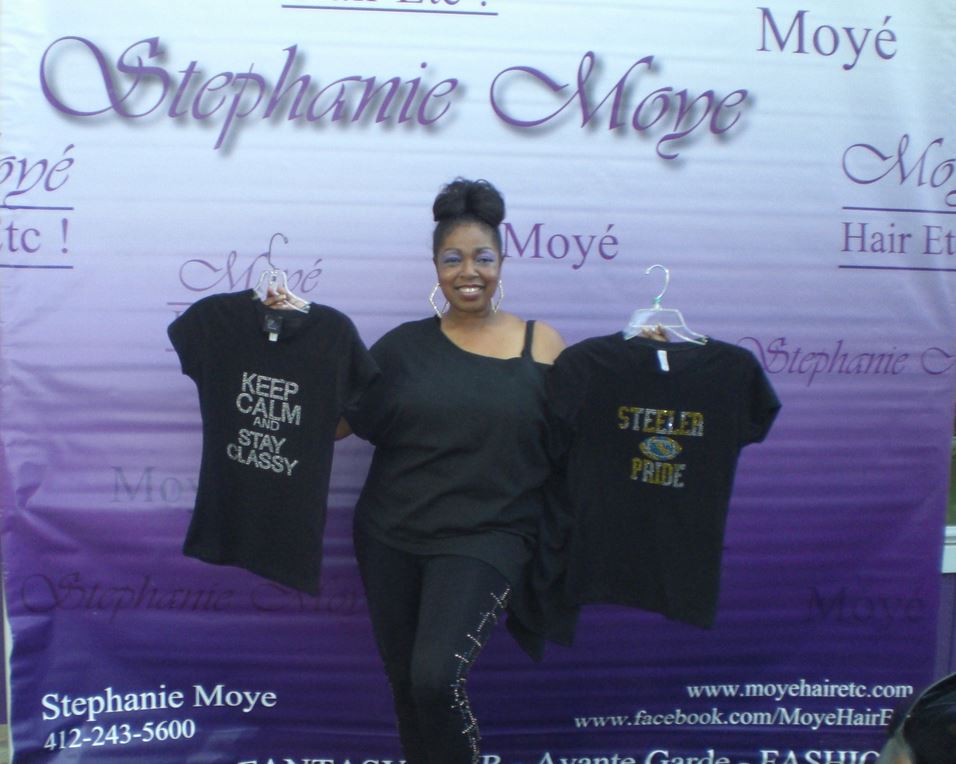 Stephanie Moye, proprietor of Moyé Hair Etc., has expanded her recognized hair salon services to fashion wear with the new BLINGWEAR designs. With her new fashion house, Smoyé, she has created a line of clothes that are fun, chic and comfortable for women who have 'on-the-go' lifestyles.
"The designs will compliment a woman's personal style and body type," Moye said. "Women can travel with these clothes, fold them in an overnight bag and still look cute."
Her journey to the fashion line started at the young age of seven when she started making clothes for her Barbie dolls on her Barbie doll Singer sewing machine. By twelve, she started sewing adult clothes and making her own outfits for school.
It was in high school that she became so advanced in her construction class that the teacher had her teaching fellow classmates. After graduation, she aspired to attend the Fashion Institute of Technology (FIT) in New York, but her parents were very concerned about her moving and preferred she study for a more traditional career.
Respecting their wishes, she studied medicine and worked as a nurse for twenty years. But it got to the point where she felt she was not utilizing her God given talent and she wanted to do something that responded to her contained creativity.
In her forty's she courageously followed passion to go to school for cosmetology while still working, part-time, as a nurse.  Eventually, she was able to open her own hair salon to become an award-winning Fantasy Hair stylist.
Moye has traveled around the country and her hairstyles have been featured in numerous newspapers and magazines, both local and national, including the likes of Vogue, Essence and Time.
While on a shopping trip to New York she ended up walking down a street which ran right to FIT without realizing.  It was then that she had an epiphany.
"The lightbulb came on that I needed to get my degree and pursue fashion design full time," she said.
Now in her fifties, Moye is near completion of a bachelor's degree in fashion design at the Art Institute of Pittsburgh.  She's come full circle with the BLINGWEAR design collection and will continue to broaden the entity of women's wear.
She still has her salon located at 11125 Frankstown Road, Pittsburgh, PA 15235 and looks forward to the future as she finishes school and expands the Moyé brand. She hopes that her story serves as an inspiration and that it is never too late to follow your dreams!
To purchase any BLINGWEAR fashions or for more information, visit: www.smoyefashions.com or call 412-243-5600.
This article was first published in Soul Pitt Quarterly Print Magazine (W15)
Copyright Soul Pitt Media.  All Rights Reserved.