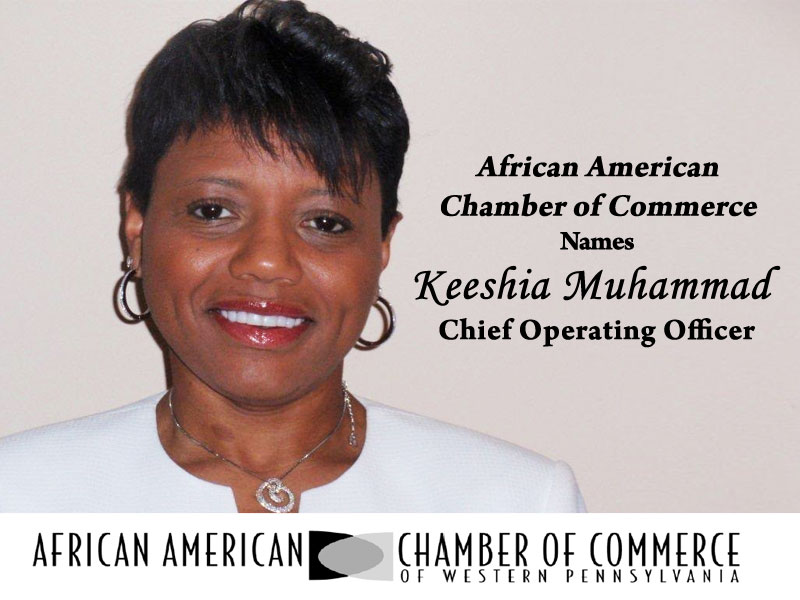 The African American Chamber of Commerce of Western Pennsylvania (www.aaccwp.com) announced that Marketing Executive Keeshia Muhammad has been appointed Chief Operating Officer, a new position within the Chamber. Ms. Muhammad will report to Doris Carson Williams, CCE-President and Chief Executive Officer.
Samuel Stephenson, Chairman of the Chamber stated; "We look forward with much anticipation to Keeshia joining our team. I expect her background as a product leader and marketing professional will strengthen our outreach to the Chamber's membership and our partners throughout the region. Keeshia is a senior marketing professional with a proven track record of successfully commercializing products, and creating and implementing strategic marketing plans."
Effective July 10, 2017, Ms. Muhammad will assume responsibility for marketing, operations, and developing programs with our non-profit member organizations as part of her new role.  Included will be updating the operating policies of the Chamber, and developing and maintaining a sound plan of organization. A former executive in the pharmaceutical industry, Ms. Muhammad has experience in brand maximization strategies, as well as in the areas of marketing and therapeutics. She also serves as an industry consultant on respiratory and women's health issues.
The new COO hails from Central New Jersey. She holds a Bachelor of Business Administration from the College William and Mary and is currently a Washington County resident.
Save
Save
Save
Save