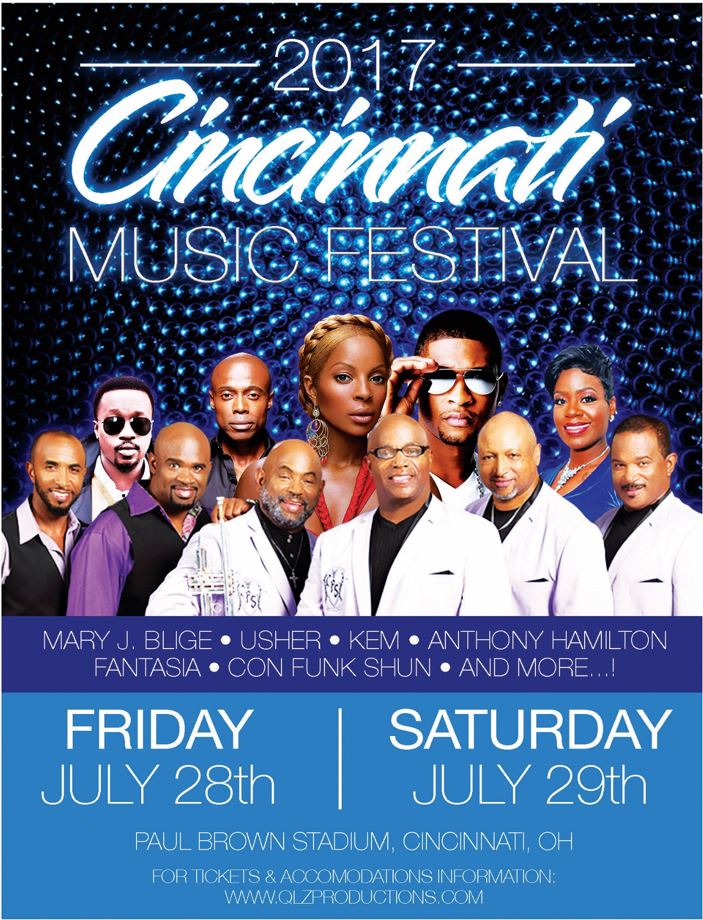 Attend the Cincinnati Music Festival just once, and you will realize you are embarking on a musical experience like none other. Over twenty thousand like-minded people gathered like a huge family for one purpose – to enjoy the greatest music ever created! Through the years, thousands of music lovers have fallen in love with The Cincinnati Music Festival.
Day 1 of the festival begins at 7:30 p.m., on Friday, July 28th with the following line-up:
Mary J Blige, Kem, BBD (Bell, Biv, DeVoe), SWV (Sisters With Voices)
Day 2 begins at 7:30 p.m., on Saturday, July 29th with the following line-up:
Usher, Fantasia, Anthony Hamilton, ConFunkShun
Now is the best time to join us for The 2017 Cincinnati Music Festival … the largest festival of its kind in the mid-west.



QLZ Productions offerings include:
Prime Tickets
Prime Hotel Accommodations
Create Your Own Hotel/Ticket Package
All at reasonable prices for this 2 day music extravaganza
Array of Payment Options (Credit Card, PayPal, Mail Order, Payment Plan, Group Sales)
For Additional Ticket/Hotel Purchasing Information go to www.qlzproductions.com

P.S. Do your family, friends and co-workers a big favor and let them know. Thanks!
Website: www.qlzproductions.com,
Facebook: www.facebook.com/qlzproductions