Posted by Healthy You!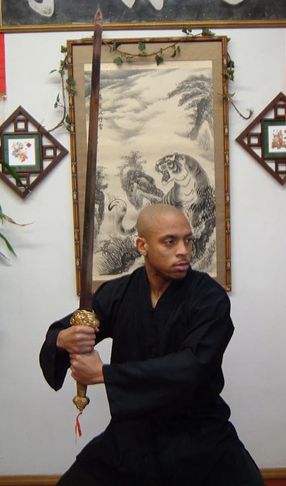 Jamie Broadnax, is our Expert Personal Trainer of the month.  Jamie, a former Brooklyn, New York native  teaches Martial Arts, Personal Training, Body Sculpting Classes and High & Low impact exercise classes. He has been working in the industry since 1990. His skills are limitless. Jamie's ultimate gaol is to help professional atheletes as well as, young and old people become more disiplined to set and achive their goals and aquire a healthier lifestyle.
"Jamie Broadnax has been teaching at the [Shaolin Kung-Fu] temple since 1997. Growing up on the streets of Brooklyn, he has been training since 1990. Jamie has devoted his life to martial arts, for it allows him to do good deeds with his efforts. He is a dedicated Instructor and works diligently with the students of the school to help them reach their goals. Jamie is the Assistant Director of the Lion Dance Team and a lead performer who plays the traditional Cantonese lion, drum, cymbals, and the gong. He is best recognized for organizing and leading outreach programs in which he teaches martial arts, exercise, meditation, and philosophy to show underprivileged children broader options in life." – Tak wah eng Grand Master
SP's Healthy You Coordinator, Leslie Askerneese, asked Jamie a few questions:
When Should I Train With Weight Vs. Cardio?
The best thing to do is always try and burn the candle at both ends, which means you should always incorporate both weight training and cardio work into your overall workout If you can, plan your workout to take 1 hour in length. Spend the first 40 minutes doing weight training. Make sure to eat a small pre-workout meal with a little carbs/protein for energy. You will burn off those carbs during your weight training session. Once you're finished pushing some weights around, spend your last 20 minutes doing cardio work to really burn the fat.
 
How Do I Tighten Up My Abs and Arms?
To reduce your waist size and tighten up your lower abs and upper arms, you will want to incorporate high intensity interval training to your cardio routine.
 
Should I bulk up or tone down?
This really depends on what you'd like to one looking like, two perform like and three feel like. Strength training (i.e) bulking up requires a totally different workout regiment then with endurance training (i.e) toning down.
How do I get six pack abs?
This is the hardest thing to get into peoples head. It's less about your workout and more about your diet. 60% of how we look is related to what we eat. So if you want that dynamite abs try fork put downs and plate push a-ways.

How Can I Get A Bigger Butt?
Here are some great butt exercises which will tone and tighten your rear end. The heavier you increase the weight used, the more muscle you will add to your butt. If you want a thick and tight rear end, focus on doing 6-8 reps per set and try using more weight.
Contact Jamie today via email at healthyyou@thesoulpitt.com if you have any questions or would like him to train or demonstrate for your organization or youth group.
Filed under: Personal Trainers