Posted by Healthy You!
Written by Leslie Askerneese, Healthy Souls Coordinator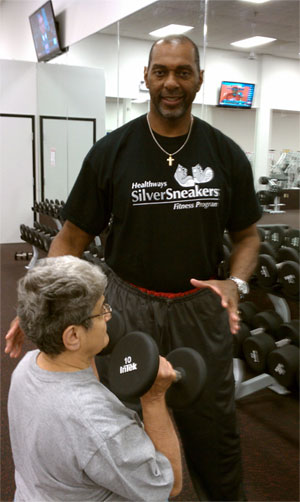 Meet Mr. Nathanial H. Duck, a Christian Certified Physical Fitness Instructor. Mr. Duck was born and raised in the Homewood area of Pittsburgh, Pennsylvania. 
Some years ago Mr. Duck was well known for his outstanding abilities in playing basketball, but would now prefer being recognized for his Health and Fitness Ministry. I quote Mr. Duck as saying, "This is my ministry. The lord gave me a vision as a young man that, I would have a family, be involved in community leadership and play a role in neighborhood outreach ministries at church." 
In pursuit of these goals, Mr. Duck received an Associates Degree in LCCC Junior College for Physical Education and Communications. He then started his Health and Fitness ministry as a Youth Fitness Program Director in 1977. 
Mr. Duck's career evolved through time and diligence. He is presently an Expert Personal Trainer at Fitness 19, an Athletic Director for Hosanna House, a Physical Education Fitness Coach for Healthy Black Families Project and a Fitness Instructor for Silver Sneakers. 
He also volunteers his time in shelters several days a week in the Allegheny area of Pittsburgh. Though he possess a very rigorous schedule, he still finds time to be a committed husband and father to his children of four. 
I quote Mr. Duck as saying, "there is no secret to good health, there is a process."
Start with the following fundamentals:
Physical Fitness 3 or 4 days per week, which involves stretching, aerobics and body toning.
Hydrate your body with water and alter your eating habits by incorporating nutritional fundamentals.
Get plenty of rest, to regenerate your body.
There is no age limit, some health conditions, may exclude physical exertion. 
 In conclusion, Mr. Duck is an inspiration to both young and old, male and female alike. His wealth of knowledge and experience, combined with his words of encouragement, wisdom and love for God, has proven him to be a positive role model for the African American community and to anyone who comes in contact with him. Mr Duck is committed to helping others to maintain a healthy lifestyle. It is conveyed through his training. Mr. Duck can be reached at dstar24u@aol.com.
Filed under: Personal Trainers